By: Henriette Bylling, CEO aka The Queen of Petfood at Aller Petfood Group
Term #1: "Clean"
The pet food trade is dominated but numerous terms without "official" definitions – "natural" and quality definitions such as "premium" and "super premium" being some of them. Within the trade we do not agree on the definition and the terms are not regulated by neither the governing bodies nor the trade organizations such as AFFCO and FEDIAF.
"Clean" enters the game
Now there is another term to be added to the "none-defined" pet food vocabulary: "Clean". I recently attended a pet food Industry webinar by WATTs media where "clean" was described as one of the top three trends we should expect to see developing in the pet food trade for the next five years. The other two key trends were: "Transparency "and "Sustainability". I will be sharing my thoughts on these two other terms in my next two blog posts.
As can be seen in the below graph one of the main pillars of "the clean concept" is "natural". In other words, it is a new term that is based on an existing undefined term… The problem is that it leaves the consumer to interpret what they consider to be "natural" and to be guided by none-governed marketing information about whether a pet food is actually natural.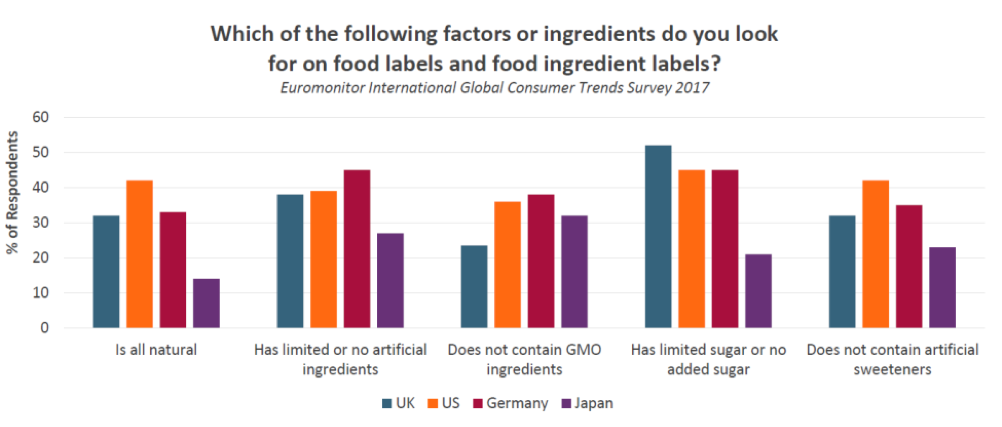 Source: Euromonitor
None-GMO highly relevant in the clean concept debate
Another area in focus in the clean concept which I also consider highly relevant for pet food is: None-GMO. For me it is interesting to see how the GMO awareness have increased in the US over the last 8 to 10 years from being rather limited to becoming a focus area for approx. 37% of the consumers. I remember having a meeting about 8 years ago with a potential American distribution partner. Already at that time the none-GMO claim was a given for all our pet food. But as a USP (unique selling point) it was of no importance in the American partner's view and in their perspective of the US consumer's focus at the time.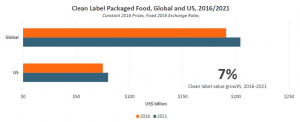 Source: Euromonitor
"Clean" concept driven by US market
As you can see in the above graph, the "clean" concept is highly driven by the US market. In my view this is not surprising due to the market's tradition for GMO crops and the allowance for i.e. growth enhancers in meat production etc.
It is very common that if there is a tradition or trend in the market there will also be a counter-trend…
I my next article I will share my views on whether it is possible for the consumer to make "clean" purchasing decisions based on the information we in the pet food trade make available.
Our focus: Transparency in pet food and in the pet food industry
This article is part of our overall focus on transparency in the pet food industry. If you want to make sure not to miss out on our articles, shares and comments on industry trends, please subscribe to our newsletter in the box to your right or in the bottom of this page.
Link with or follow Henriette on LinkedIn
#petfoodtransparency #petfoodindustrytransparency #consumertrust
Want to read more from Aller Petfood's News & Knowledge section?
Read the previous article here
Share with your network