Meet Charlotte our Online Marketer
In this first article we introduce you to Charlotte in Denmark. Charlotte is an our online marketer, and when you e.g. read a post on Facebook or LinkedIn it is usually Charlottes doing. Charlotte is always smiling  and positive towards new people and assignments – which makes her fit right in with the rest of the Aller Petfood team – read more about Charlotte's story below.
Tell us a little bit about yourself, how is your everyday?
Well, I am 24 years old, live in Denmark and finishes my bachelor's degree in international marketing management in January. I started working for Aller Petfood last year, and I was so lucky to get to do my internship in the company as well.
In my every day I work with the Aller Petfood social media channels and generel online marketing. I am in the process of writing my bachelor thesis too, however I am not one to sit still, so I am also in the process of making an online platform with focus on sustainability (inspired from Aller Petfoods transparency thinking), and many other projects in regards to my main focus on online international marketing management.
Do you have any pets? What is your "pet story"?
I love pets and since I was born there has always been a dog in my life, from Dino a huge Labrador, who caught me as a baby and didn't mind being used a horse until my parents found out… To a small Danish/Swedish farmdog who could get out of every fence my dad put up, but was always happy and kind to the people he met when he broke out from the garden.
Now my fiancée (Alex) and I have a cross-breed of a Jack Russell terrier and Rott Weiler (no, I don't know how that combo happened 😉 ), who is named Scooby Doo. Firstly, he was Alex's parents dog, but when they couldn't take care of him because of their jobs, we took him in. I was very against it in the beginning, because we had just moved, and I didn't want to be bound by a dog, but having Scooby Doo was definitely the right decision.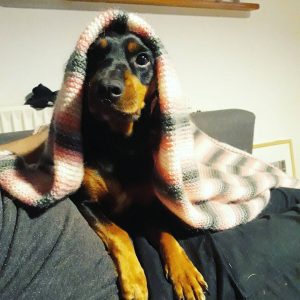 But why did you take him in then?
Alex and I had just moved from an apartment in the city, to house a bit away from the city. Alex is studying to be a chef and is usually not home during the evening and night time… and yes admitted; I might be a bit afraid of the dark… Meaning Scooby Doo actually arrived at the perfect time – it is incredible how even a small dog can make you feel so much safer and keep you company.
Do you have any pet tips you would like to share?
Yes, haha, this might seem a bit strange and is actually a tip I got from Henriette, the CEO of Aller Petfood who got it from a vet. The tip goes that if your dog's stomach is acting up, try to mix some A38 or yoghurt in his food. It works for people and will work for dogs too. One day Scooby Doo was having a hard time, and I tried this. I thought it sounded ridiculous at first, and Scooby wasn't very keen to eat the yoghurt, but he did it, and not much later he was feeling a whole lot better. A bit weird but very effective.
Is there something you think people should check out regarding Aller Petfood?
I think it is very refreshing with a company that are not afraid "to say what they do and do what they say" (that quote is stolen from Henriette 😉 ), and is focusing on being transparent. Aller Petfood of course would like to sell their products, but also wants to educate and help the consumer and their distribution partners in the best way possible. For example, our News & Knowledge-section on our website is full of articles with different opinions and views on different topics, both in interest to the consumer and our distribution partners – I as a pet parent find it very interesting.
Find the Aller Petfood LinkedIn page and link with Charlotte and the rest of the Aller Petfood team here…
Share with your network